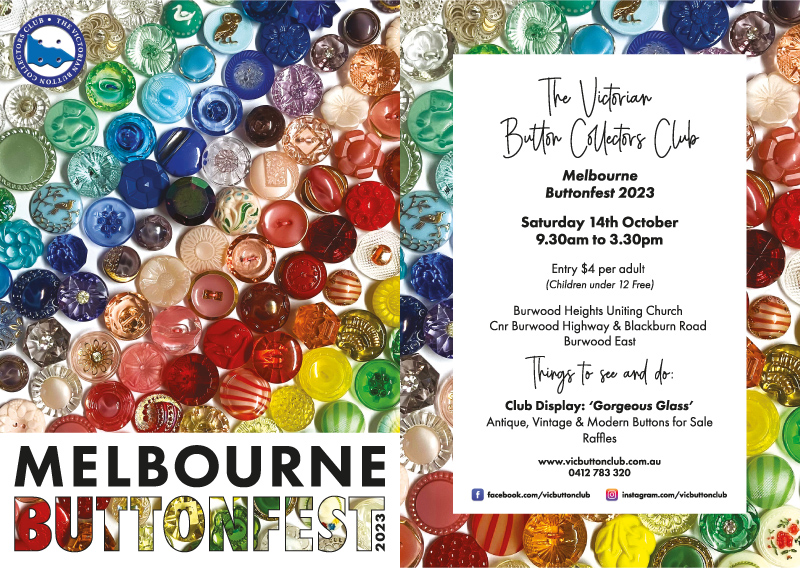 SATURDAY 14th October 2023, 9.30am to 3.30pm at Burwood Heights Uniting Church, Corner Blackburn Road & Burwood Highway, Burwood East. Entry $4 per Adult (Children under 12 free).
ON DISPLAY : GORGEOUS GLASS
Buttons for Sale :- Collectable buttons – including military & uniform buttons. Buttons for craft projects & clothing. Button-related items.

Enquiries: [email protected] or Tel: 0412 783 320
HOW TO GET THERE:-
Transport -
Tram 75 runs along Flinders Street from the City, past Federation Square, into Bridge Road along Camberwell Road, Toorak Road, then all the way along Burwood Highway terminating at Vermont South Shopping Centre. Get off the tram at Stop 70 for the Buttonfest, next to the huge shopping centre at the corner of Burwood Highway and Blackburn Road.
There is also a bus service from Glen Waverley along Blackburn Road.
Closest train station is Glen Waverley.
Accommodation -
There are many places to stay in the surrounding area:
The Burwood East Motel is situated right next door to our venue at 355 Blackburn Road - Tel: 03 9803 8211 - www.burwoodeastmotel.com.au.
Quest Burwood East, 315 Burwood Highway, Burwood East - Tel:- 03 9069 6888. This hotel is on Tram 75's route and quite close to our venue. It is walking distance.
Food - here is a variety of places to eat at the shopping centre opposite the venue, along Burwood Highway, and restaurants on the corner of Burwood Highway and Station Street.